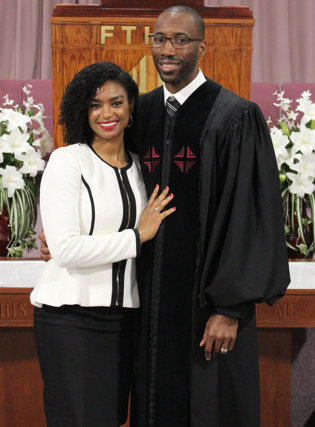 Reverend Reginald Dwayne Covington
Pastor, From the Heart Church Ministries of Harrisburg
Pastor Reginald D. Covington was born in 1980 and raised in South Carolina. As a young man, he enlisted in the Marine Corps and was honorably discharged after four years of service.  He  obtained an undergraduate degree in Mathematics and Economics (University of Maryland at College Park) and a Ph.D. in Economics (Cornell University).  He is blessed to be married to a virtuous woman, Danielle Covington, and they have two sons, Elijah and Micah.
Pastor Covington left the field of economics to enter full-time ministry in the Spring of 2019.  On Sunday, July 7, 2019 Pastor Ronald and Reverend Sheila Young retired from active ministry at From the Heart Church Ministries of Harrisburg and Episcopal Pastor John A. Cherry, II installed Pastor Reginald Covington as the new Pastor. Pastor and Mrs. Covington will continue to build on the foundation that was laid and help prepare the church to be a place where anyone of any nationality, race, age, education, or income level can be restored and fulfilled.
Pastor Covington has a desire for everyone to have an abundant life, which only comes from having a relationship with God the Father, through Jesus Christ.  He communicates this desire through Christ-centered sermons and teachings that are simple, relevant, and engaging.